© 2022 Cottonwood Media – ZDF – ZDF Enterprises
Adapted from the bestseller for teenagers by author Robin L. LaFevers published at the beginning of the millennium, "Theodosia" is an ambitious live action series for children. Produced by the Parisian company Cottonwood Media, the series is mostly filmed in Paris Region.
Cottonwood media, a company specialized in the production of content for children and teenagers, is the first European structure to collaborate with HBO Max. With " Théodosia ", the company co-founded by Cécile Lauritano, David Michel and Zoé Z. Carrera is carrying out its most ambitious project to date.
Aimed at children aged 8 to 12, the 26x30' series features a young heroine who has magical powers in an Egyptian universe filled with ancestral curses.
Chiffres clefs
people employed in Paris Region

days of filming in Paris Region

location in Paris Region
Filming
Many technicians from Paris Region have worked on this large-scale project. Among the service providers solicited in Paris Region, La compagnie des costumes in Saint-Ouen is worth mentioning.
Among the emblematic locations that can be seen: the Carroussel du Louvre and the Place de la Concorde. Other lesser known locations in Paris Region were also used, including the château de Bourron Marlotte in Seine et Marne.
Filmed in the middle of the Covid period, the production had to modify its work plan accordingly and in particular moved some of its sets to Provins, also located in Seine et Marne, in order to keep on filming.
Jeremie Steib I first assistant director
Listens to the interview of Jérémie Steib, 1st assistant director on the series. He talks about the stages of his work on the project and reveals some interesting facts about the sets found in Paris Region! (Turn on english captions)
Cécile Lauritano I producer and co-founder of Cottonwood Media
What was it that first drove you to start this project?
ZDF, our partner for the "Find Me in Paris" series, told us about their interest in the book written in 2007 by Robin L. LaFevers. Immediately upon reading the book we fell in love with it, we understood the enormous potential of the story: a young girl at the beginning of the century, who lives in a museum with parents who are passionate about archaeology, villains who want to upset the balance of the world, the magic around ancient objects from Egypt. All these ingredients offered us the unique opportunity to create a children's series with a blend of Harry Potter and Indiana Jones.
What are the specificities of the audiovisual market for teenagers?
It's growing rapidly. Children expect the same level of quality as the series their parents watch. The market is becoming very demanding and therefore pushes us to reach higher and higher levels of quality with each new project. Whether it's in the storytelling, the settings, the special effects or the means used.
Did you have any specific ambitions in mind when working on this project?
Yes. The series is aimed at children aged 8 to 12. This is the age when girls and boys are most passionate about archaeology. We chose to focus on this topic. We have also given great importance to the diversity of the characters and their ability to adapt in a world of adults where magic can prevail. There are therefore strong values of fraternity, mutual aid and also equality in the narrative of the series.
For everything that concerns egyptology, we called on experts to help us at the time of writing. Even though many things are fictitious, it was important to have historical accuracy. Children who are interested in the subject should not have the feeling that we have misled them. Instead, this series can serve as a springboard for them to become even more interested in the subject.
EIn addition to the books by Robin L. LaFevers, what were your sources of inspiration for this project?
Yes as I said above, and even though the series is an adaptation of the books we were of course inspired by movies about adventure or magic like Harry Potter and Indiana Jones as well as other older series. But the most important thing for us was to know what the audience would expect. We therefore expanded the context of the original books. By making the characters a little older, by creating a team of 4 children who evolve together and take on challenges together.
Why did you film in France when the cast is rather international?
We film all our projects in France because our productions bring together talents from all over Europe. We also film in Belgium and write in England. For "Theodosia" in particular, the action takes place in London and Paris. In order to keep things simple and since we are based as a production company in Paris, it was only natural to film the Paris scenes in France and film the London scenes in France and Belgium. These three countries have many architectural similarities, especially at the beginning of the century, in terms of the buildings, streets and parks where we had to film our exteriors. There was also a practical aspect to this decision: we had minor children who we could not take to England or North Africa during the Covid period. For our desert scenes, which were initially planned in Morocco, we had to go to sand quarries and a dune in Fontainebleau and Creil. These locations created a perfect illusion.
What is Cottonwood Media's next project?
That's a surprise. But we will be in Paris this summer.
Theodosia
© Crédit : 2022 Cottonwood Media – ZDF – ZDF Enterprises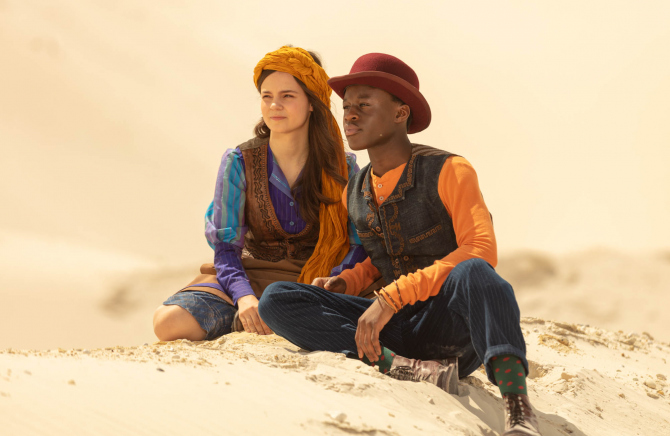 Theodosia
© Crédit : 2022 Cottonwood Media – ZDF – ZDF Enterprises
Theodosia
© Crédit : 2022 Cottonwood Media – ZDF – ZDF Enterprises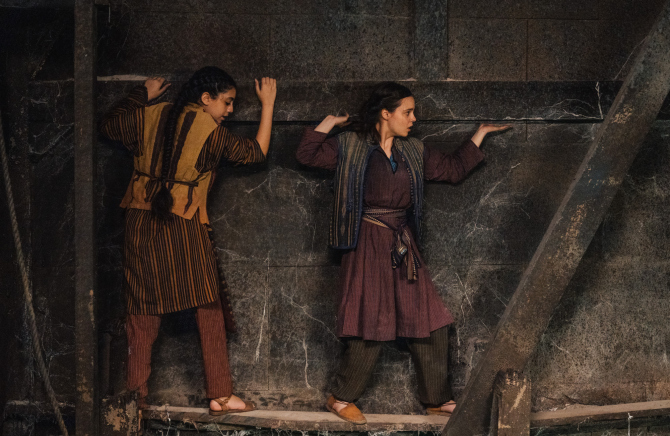 Theodosia
© Crédit : 2022 Cottonwood Media – ZDF – ZDF Enterprises
Theodosia
© Crédit : 2022 Cottonwood Media – ZDF – ZDF Enterprises
Theodosia
© Crédit : 2022 Cottonwood Media – ZDF – ZDF Enterprises